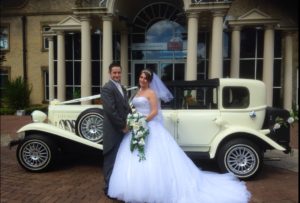 At Wans we make your wedding car hire process as easy as possible.
Booking our cars couldn't be more simple, using our online car reservation system you can check if the car or cars you require are available, and immediately reserve them for the hours which you need.
We will contact you as soon as possible to confirm the booking, and/or to verify any necessary details.
A reservation fee of £50 is payable at the time of the booking, and the full fee becomes payable no later than 28 days before the event.
Please ensure that you make payment to complete your booking, money will be immediately refunded if for any reason we are unable to accept your reservation.
 go to our Reserve a car page, choose the vehicle you require, check availability and make your reservation.
Wans Wedding Cars have bases in Castleford, West Yorkshire, and both Howden and Snaith in East Yorkshire. We cover a 50 mile radius at the quoted prices, but are always happy to travel throughout North Yorkshire, South Yorkshire, The Yorkshire Dales, goole, howden, selby, snaith, doncaster, thorne, castleford, wakefield, York, The Peak District, Durham, Cumbria, Lancashire, Cheshire, Staffordshire, Derbyshire, Nottinghamshire, Lincolnshire and even further for a small premium to cover additional travel costs.
Please Contact Us to Discuss availability and cost for distances greater than 50 miles.
View Larger Map